I have been tossing around the idea of starting this blog for a while. I discovered the fashion blogging world about a year and a half ago after I decided to take some time off before law school. I got a job in a law firm near where I grew up and suddenly I began to see my college wardrobe in a whole new light. I put away my jeans in favor of slacks and skirts. I traded in my clunky winter boots for cute ballet flats and a pair of heels or two. I started buying button down blouses and paying attention to cardigans for the first time. I realized that if I wanted to be taken seriously at work (and when I began professional school) I was going to have to grow up my style. I liked the idea of chronicling my journey, but I kept making up excuses not to do it until now.
I have had a couple of other blogs in the past, but never one that I kept up with on a daily basis and never one that relied so heavily on my photography skills (or lack thereof). My first few outfit posts have made me feel like I'm on the struggle bus. First I couldn't find a good place to take pictures. I settled on this door and will probably continue using it for the time being since it's easy. After I found a location I realized that I didn't have a tripod and I had to figure out how to prop my camera so that I could take my pictures. I have only been posting for one week and already I have had a day when my photos were too dark, a day when I kept making weird faces at the camera, and today I only managed to get one good shot where both my head and my feet were in the same picture. I'm sure that as I continue with this hobby there will be other (mis)adventures and much mayhem, but I hope that there will be lessons too and I hope that I will be able to look back on this blog in time and see how my style grows and changes. I don't have too many expectations for what this blog will be, but I sure do hope it will be fun.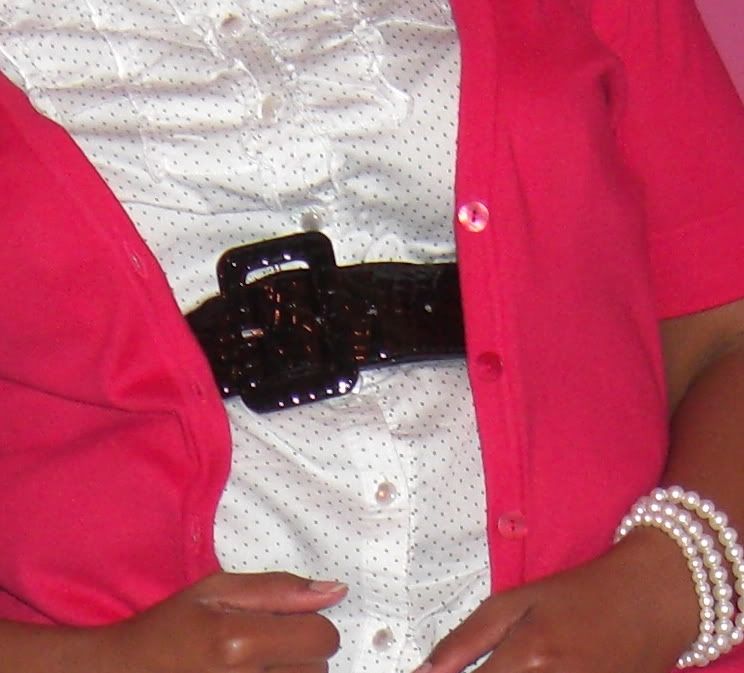 I had fun wearing today's outfit. It was comfortable and as I'm sure you will see over time wearing polka dots makes me happy :)
Blouse: gifted
Cardigan: Loft
Belt: Ebay
Pants: Tahari
Shoes: Target
Bracelets: gifted
Earrings: Laila Rowe
My Fashion Confession
by
Ashley
is licensed under a
Creative Commons Attribution-NonCommercial-NoDerivs 3.0 Unported License
.