When I started My Fashion Confession last month I explained to my grandmother that I was starting a daily style blog where I would post pictures of my outfits and talk about the evolution of my personal style. I thought she understood my new hobby until I came home today and told her that I would eat dinner after I took my outfit pictures. "After you take what?" she asked, looking confused. "After I take my outfit pictures for my blog" I repeated. <Insert an even more confused look from Granny here.> "I take pictures of my clothes for my blog." I reminded her as she looked at me like my fifth head had sprouted horns. "You do that everyday?"she asked looking shocked. *Sigh* "Yes, Granny. I do that everyday."
My mom and I moved in with my grandparents when I was just a baby. Having three generations of women under one roof was always interesting, but I can't imagine growing up any differently. We lost my grandfather to cancer when I was in high school and I miss him. I guess everyone has their own way of keeping their lost loved ones close. Some people keep pictures, or letters, but I kept my Grandpa's tie. It isn't something he wore very often--my Grandpa worked in a mill until he got sick--but it was something of his and when I wear it I feel like he's still part of my life even though he isn't here anymore. I hope he's happy wherever he is and I hope he knows how much he was and still is loved.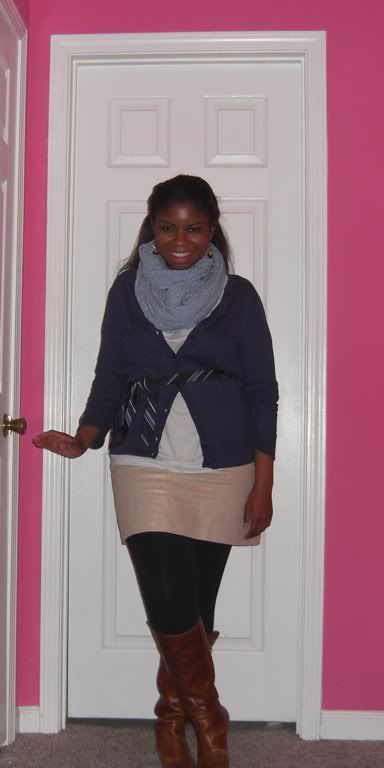 Scarf: Ann Taylor (hand me down)
Top: Theory (hand me down)
Cardigan: New York & Company
Skirt: New York & Company
Leggings: Gap
Boots: Steve Madden
Tie (worn as belt): My Grandpa's
*Title from "Fireflies" by Owl City.