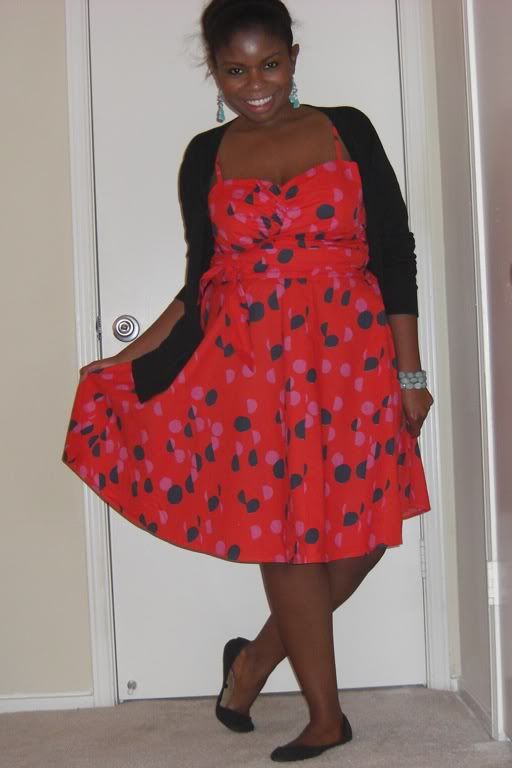 Sorry about all the wordless posts this week. The 1Ls at my law school had a long weekend this past week and I took full advantage of the time to vegetate, visit home, sleep in, and generally not do reading. It was great while it lasted, but getting back in the swing of things was kind of hard, especially since I had a legal research assignment due in addition to my normal reading this week. But I'm back and writing, at least until the next assignment kicks my butt.
I bought this dress at H&M over the summer for seven pounds. The British currency, that is, not to be confused with a ridiculously depressing
movie
starring Will Smith. At the time I was doing an internship and only had access to the thirty or so items of clothing I brought with me and the handful of items I purchased in London and none of those items worked very well with this dress. I loved the shape of the dress, but after I bought it I kept thinking I should take it back because the limited wardrobe I had available at the time didn't really work well with the dress and it made me feel like the dress didn't have a place in my closet. Fortunately I kept talking myself out of returning it because today this dress had a starring role in my outfit. Turns out it just needed a black cardigan and a couple of pops of teal to make it shine.
Bracelets: Forever 21 ($1.50!)
*Title from "Lighters" by Eminem.
My Fashion Confession
by
Ashley
is licensed under a
Creative Commons Attribution-NonCommercial-NoDerivs 3.0 Unported License
.