If you read
this
post from Saturday you know that I ate a lot of pizza dip this weekend.
What you may not know is that on Sunday I ate more than my fair share of this:
That's right everyone. Yours truly turned twenty-four yesterday. I love my birthday just as much as the next girl, but I found it hard to get overly excited about this one. What is one supposed to do when they turn twenty-four anyway? At 16 you can start driving, at 18 you can enlist or smoke if that's what floats your boat, and at 21 you hit the legal drinking age. Twenty-four didn't feel all that special to me so I did what I usually do on my birthday: I had a quiet dinner at home with my family, fielded calls from out of town relatives, and gained a shameful amount of weight. Don't judge me, okay? I'm getting old and I'm entitled to gain a few gratuitous birthday pounds.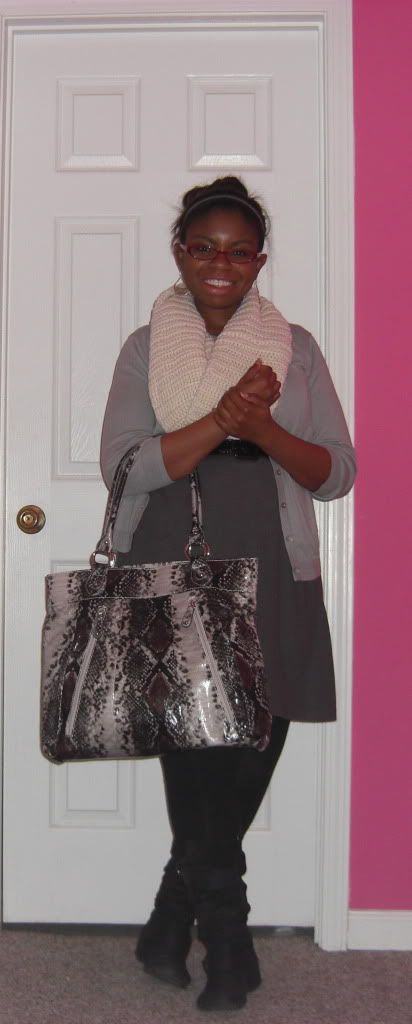 This weekend's goodies left me feeling curvier than usual so I went for a loose-fitting, comfortable ensemble that wouldn't tell the secret of my indiscretions. I've had this sweater dress for a few years, but I never seem to wear it because I keep looking for innovative ways to style it and coming up short. Today, though, I decided to keep it simple with a neutral palette of grey, black, and cream. I keep forgetting to photograph my bag for my posts, but today I remembered and I'm glad I did. I debated with myself on whether or not this faux snake skin bag was a worthwhile purchase, but I caved when I saw it on sale with free shipping over President's day. It went perfectly with today's outfit and really wound up being the star of the ensemble.
I was also proud of myself for finally pulling this circle scarf out of my closet. It was given to me some time ago but I was having trouble getting it to drape well so I kept passing it over in favor of one of my pashminas. I was determined to make the scarf work today, though, because I liked the idea of a neutral palette and this circle scarf is one of the only items in my collection that fit the bill. It took some tugging and fluffing to get the scarf to fall like this, but I'm happy with the end result and I plan to start incorporating it into more of my outfits soon.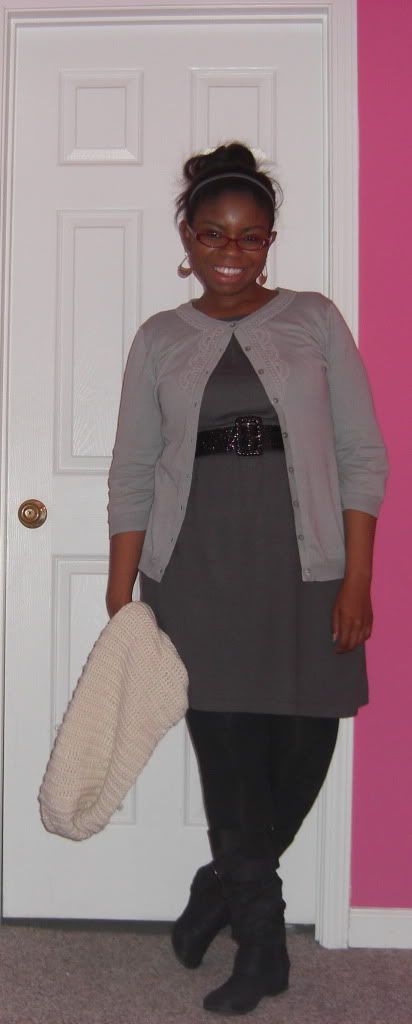 Sweater Dress: Spring + Mercer (gifted)
Tee: Divided by H&M (gifted)
Leggings: One Step Up via TJ Maxx
Scarf: New York & Company (gifted)
Handbag: New York & Company (available here)
*Post title from Billy Joel's "Shades of Grey."