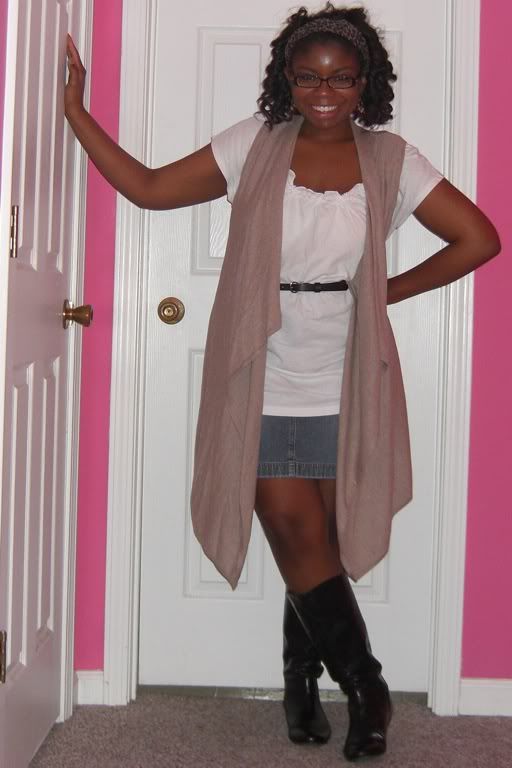 I was skimming through my outfit inspiration folder when I came across an outfit worn by Keira of A Pretty Penny. She was wearing a drapey cardigan with a leopard print scarf as a headband with skinny jeans and a white tee. Even though I didn't have the exact same pieces she was wearing I liked the outfit and wanted to see if I could come up with a similar outfit with my own twist. This outfit is the end result. I kept the scarf as headband concept intact but went with a denim skirt instead of skinny jeans. I finished the outfit with this open front vest and boots and really ended up liking the result.
I spent the morning grocery shopping with my mom and getting my oil changed. Nothing too exciting, but to be perfectly honest I kind of want my weekends that way for now. It won't be long before my life is busy, stressful, and crazy and for the moment I just want to savor this peace before it's gone. I will try to write another quick post tomorrow, but I have several things I need to get done so if I don't get to it have a happy weekend!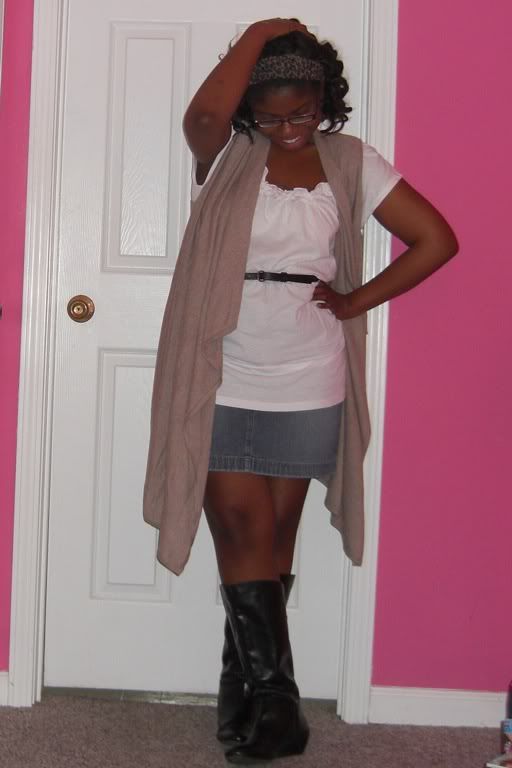 Belt: from a New York & Company Dress
Boots: Mossimo via local discount shoe store
Scarf: found in the attic
Earrings: New York & Company
*Title from "Man I Feel Like A Woman" by Shania Twain.
My Fashion Confession
by
Ashley
is licensed under a
Creative Commons Attribution-NonCommercial-NoDerivs 3.0 Unported License
.