Have you ever heard of Randy Pausch? He was a computer science professor at Carnegie Mellon University who died of pancreatic cancer in 2008. Before he died he gave a lecture entitled "
The Last Lecture: Really Achieving Your Childhood Dreams
." I finally got around to watching the lecture on youtube last year and while it was both heartbreaking and inspiring throughout, the thing that spoke most to me was his advice on how to manage the obstacles that get in your way. He said that "The brick walls are there for a reason. The brick walls are not there to keep us out; the brick walls are there to give us a chance to show how badly we want something. The brick walls are there to stop the people who don't want it badly enough. They are there to stop the
other
people!"
I mentioned yesterday that I am going to England this summer for an internship and I cannot even begin to tell you how many times I have thought about not going in the last week alone. The first brick wall is that the internship is unpaid and the dollar is not worth as much as the pound. For a student of means this might not be a problem, but for me it presented a major roadblock. I ended up taking the first steady job I could get even though it is far more physically demanding than I would like and I have worked my tail off since February to save enough money to cover the costs of a summer abroad out of pocket. The unpaid part is enough of an obstacle on its own but add to that the stress of searching for housing in a city I don't know very well, trying to plan for travel with refrigerated medication (I have Crohn's disease and take weekly shots), and doing it all a few months before I move to a new city to start law school and you end up with a brick wall of epic proportions.
I could give up on this internship, but I won't. I won't do it because I want to be the kind of woman who can make things happen no matter what. I don't ever want to look back on my life and wish I had been strong enough to persevere. I want to look back on my life and know that I faced all of my brick walls without fear.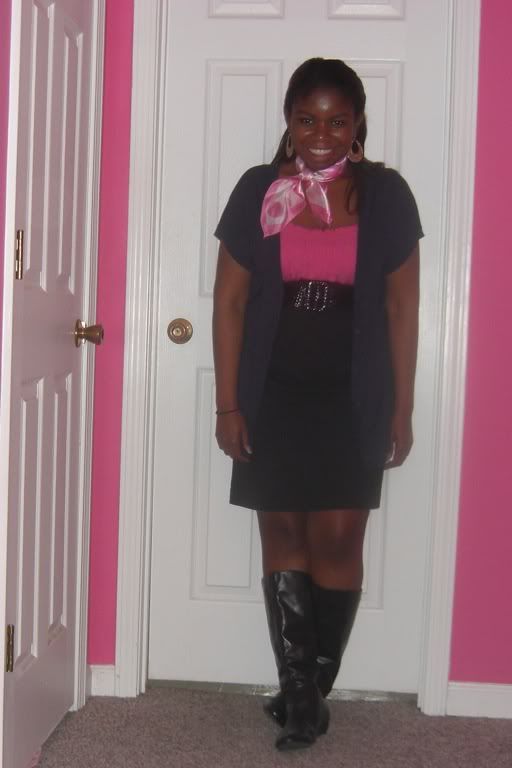 Skirt: International Concepts (gifted)
Shirt: Victoria's Secret
Cardigan: Loft
Belt: Ebay
Scarf: Ebay
Boots: Mossimo via discount shoe store
Earrings: Forever 21
*Title from "Bigger Than My Body" by John Mayer.
My Fashion Confession
by
Ashley
is licensed under a
Creative Commons Attribution-NonCommercial-NoDerivs 3.0 Unported License
.