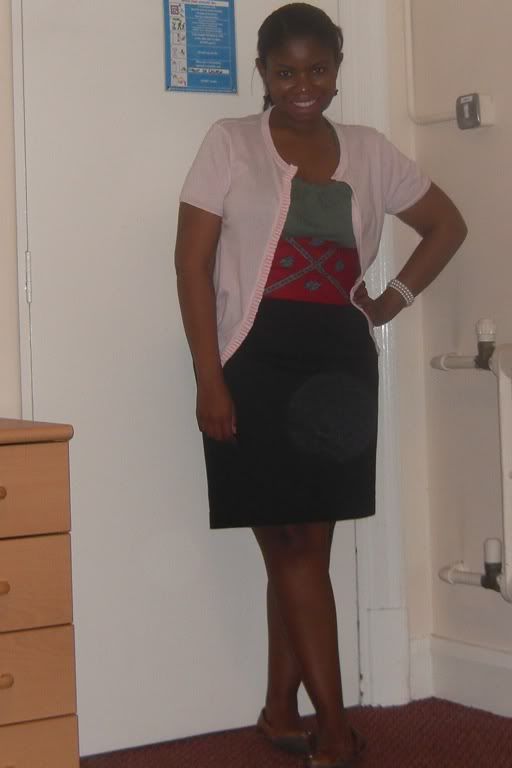 Shirt: New York & Company
Skirt: International Concepts
Scarf: Borrowed from Granny
I went to the grocery store yesterday and was all proud of myself because I knew how to use the self checkout this time. I scan all of my items and hit the finish and pay button when I get a message saying to wait for store assistance because there are restricted items in my cart. I'm looking at my chocolate soy milk and laundry detergent wondering if the machine thinks I'm too young to run the washing machine when a store employee comes up and asks me for an ID. I started digging around for my driver's license but, clearly, wanted to know which of my items Tesco considers restricted since all I had were standard groceries and nary a drop of alcohol in sight and the guy looks at my groceries and with a completely straight face tells me the machine stopped me because I bought a knife. I looked at the plastic butter knives among my purchases and decided it wasn't even worth it. I handed the dude my license and loaded my groceries in the reusable tote I brought along because I'm environmentally conscious like that. Crazy should be glad I actually had an ID on me and didn't need to get mad at him. I could really have done some damage with all that plastic cutlery.
*Title from "Bottle It Up" by Sara Bareilles.
My Fashion Confession
by
Ashley
is licensed under a
Creative Commons Attribution-NonCommercial-NoDerivs 3.0 Unported License
.