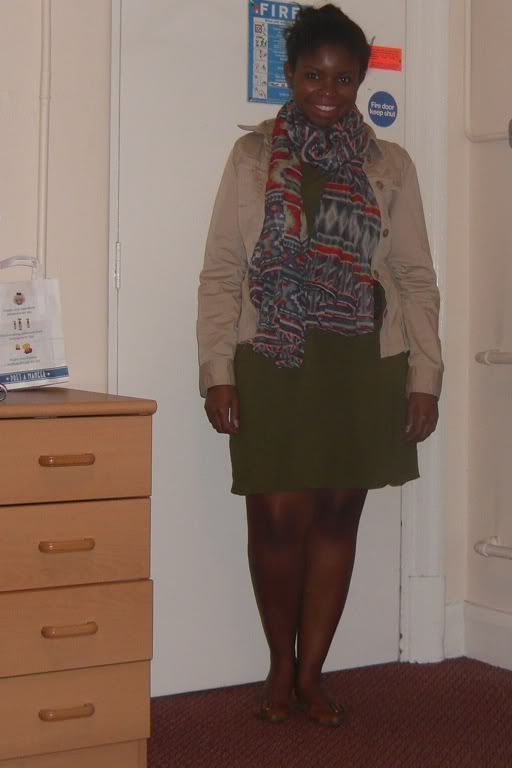 Jacket: Old Navy via Ebay
Normally I go to work and come straight home, but Thursday night at 12:01 AM I found myself in a theatre watching Part 2 of Harry Potter and the Deathly Hallows. The night started long before that, though. The theatre I went to showed Part 1 of the Deathly Hallows at 9 so I actually watched both parts consecutively. It was pretty epic.
I saw Part 1 last year, but I didn't buy it when it came out on DVD because I wanted to wait for a boxed set of Part 1 and 2 together. I was really glad I watched both parts together because there were quite a few things I had forgotten since the last time I saw it and plus I liked having the continuity of seeing the entire movie at once.
Without giving anything away, my favorite Part 2 moments were probably when McGonagall animates the statues before Voldemort and the Death Eaters get to Hogwarts and when Mrs. Weasley sees Bellatrix Lestrange going after Ginny during the final battle and has a serious Oh hell no moment. Overall I thought the acting was incredible, the effects were well done, and the action of the movie was well-paced. As a huge fan of the books I don't have any major complaints.
The one thing that was a little sad for me is that most of the British people I know don't really seem to be fans of Harry Potter and for the ones who are, midnight showings just aren't their thing. At home midnight showings sell out fast, but I was able to get tickets to the one I went to a few days before the event and I had a really good seat at the theatre. It ended up being a sold out movie, but no one dressed up and got really into it the way they do at home. That was weird for me. It took a lot of the fun out of the experience in a way.
My Fashion Confession
by
Ashley
is licensed under a
Creative Commons Attribution-NonCommercial-NoDerivs 3.0 Unported License
.