A few weeks ago I was contacted by a representative for a company called
eShakti
about reviewing an item of my choice from their website. I happily agreed and today I would like to share my experience with the company,
eShakti
is a women's clothing company that offers standard size clothing up to a 26W and custom sizing (at an additional charge of $7.50 per item) where you provide your own measurements and the company makes the item to your specifications. Even if you choose a standard size item, you still have the option of customizing things like length and sleeve type on most items for an additional $7.50.
I spent some time perusing their website and their prices range from around $20 to $120 with dresses starting at around $50. They also have a nice overstock section where they resell returned items at a discount.
eShakti
sent me a dress of my choice for the purposes of this review, but when I checked the website this afternoon the dress I chose to review was no longer available and I didn't want to entice you with a dress you could no longer buy. Never fear, though. I purchased another of their lovely dresses recently so the pictures for today's review are of The Birds Who Gossip dress which you can still purchase
here
. I know this decision is a little unconventional, but as a frequent reader of other blogs I know I like to see reviews of clothes that I can actually buy if I want to. I will wear the dress
eShakti
gave me in a latter post, but for today I wanted you to see something that is still available.
Quality
: I was pleasantly surprised with the quality of the dresses I have from
eShakti
. Their dresses seem to be well made, are lined, well-cut, and made of good quality fabrics.
Fit
: I can't speak to the company's custom size items, but I am really pleased with
eShakti's
standard fit dresses. If you read their size chart carefully and choose the standard size that fits your waist, hip, and bust measurements I think you'll get a good fit. Plus, the company requests your height measurements when you order which ensures that a knee length dress is actually knee length on you.
Price
: Reasonable for what you're getting. I'm a bargain shopper at heart, but I have a deep and abiding love for feminine dresses and fun prints.
eShakti
has plenty of both and even though I don't normally like to spend more than $30 on a single item, I have noticed that
eShakti
has sales fairly often and frequently offers $20 coupon codes on blogs around the internet. Plus, new customers who sign up on their website get $20 off their first order and free customization on their first order.
Delivery: Their website says items ship in 3 business days and will be delivered in 7-8 business days. I think my order arrived in 7 business days, so this seems accurate. Keep in mind that weekends don't count as business days, though. If you need the item by a certain date, make sure you give it time to arrive.
Overall: I am really pleased with this company. They sell great clothes at a reasonable price and I have no problem recommending them!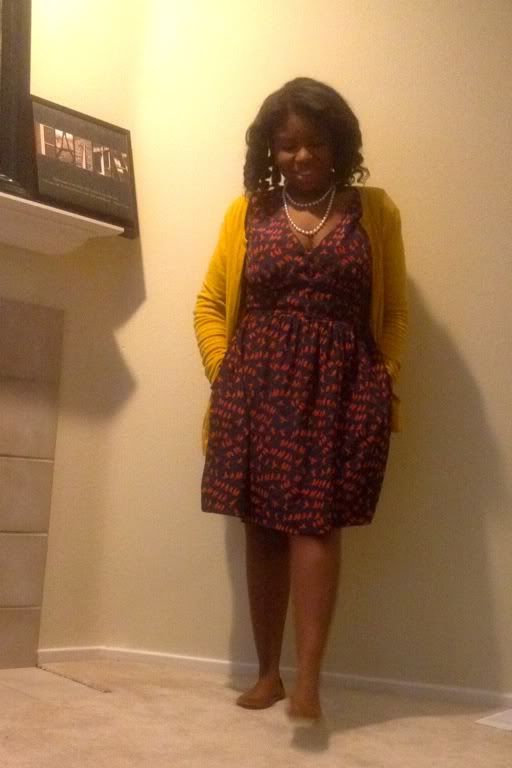 Cardigan: Target via Ebay
Necklace: Primark (London)
Shoes: Steve Madden
*I was not paid for my review, but I did receive a free dress from the company.
The opinion here is based on my own experience with the company.
My Fashion Confession
by
Ashley
is licensed under a
Creative Commons Attribution-NonCommercial-NoDerivs 3.0 Unported License
.