Growing up, clothes weren't really my thing. I was kind of a tomboy and I mainly favored baggy t-shirts, jeans, and athletic shoes (usually Nikes). I only had a few nice items for "special occasions" and these items were almost always hand me downs. I would never have worn something nice for those mundane moments between events so if it wasn't Sunday, school picture day, or the eve of a big dance, you could find me with my hair in a pony tail sporting poorly chosen glasses and an awkward pre-braces gap in my teeth. As far as I was concerned there was no need to make a special effort with my appearance if all I was going to do was sit in school all day. So I didn't. And I felt out of place in my own skin.
Part of the problem was that I was a chubby kid. Before I was even in high school I could fit into the adult clothing my aunts gave me, a fact that embarrassed me to no end. I didn't come to appreciate the hand me downs I got from relatives and family friends until I was much older. Now I consider them indispensable. These days I don't need a reason to get dressed up. I think it's fine to wear my favorite dress to the grocery store, not because I want to make the other shoppers feel underdressed, but because I want to make myself feel strong, confident, and beautiful. I deserve to be the best me that I can be, every single day, no matter what, and no excuses. For me, dressing well is a part of that.
I got this cardigan from one of my aunts several years ago and was never really sure what I was supposed to do with the ties that hang off the collar. Full disclosure? I'm still not sure what I'm supposed to do with the ties that hang off the collar. I started the day off with a bow at my neck, untied the bow once I got to work and opted to drape one of the ends over my shoulder instead, and finally decided I hated how the ends covered my belt and decided to tuck them under the belt so they would look like a tie.
I don't know if you can tell (and I'm sort of hoping that you can't) but I have worn this dress before in another color
here
. I liked the khaki one so much that I bought it in black too. What can I say? I've been looking for a good shirt dress for a while. When I found one, I bought two!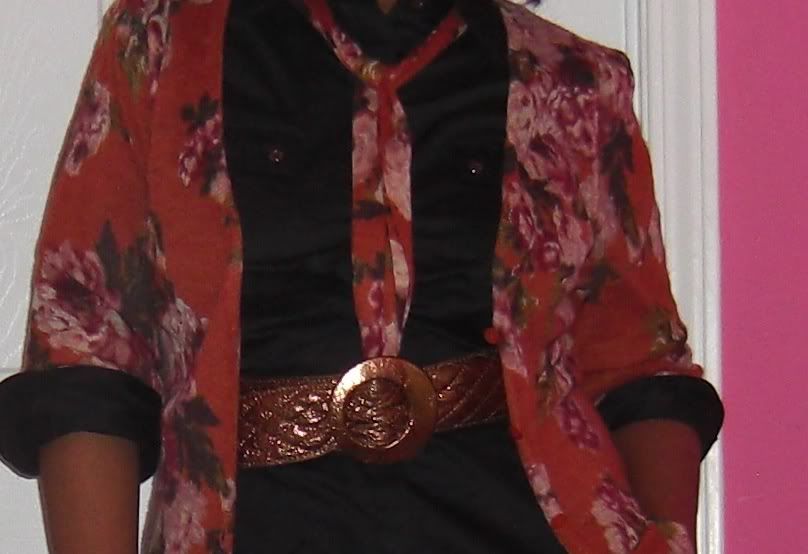 Dress: New York & Company
Cardigan: Loft via hand me down